At the suggestion of photographer, Jonnee Bardo at Gluskin's Photo, who will be taking pictures of me for my new website, I headed for Macys to consult a makeup specialist about sharpening my image, you know, take me from everyday to "eyecatching."
In my younger days, this wouldn't have been much of a challenge, but now, what I needed was a miracle worker.
I got lucky.

Though it was Labor Day and the last day of their "gift with purchase" promotion, a Lancome makeup ARTIST named Linda took me under her…brush.
With pop music playing in the background and surrounded by lights, mirrors, and photos of gorgeous models a fraction my age, Linda performed her magic.
Makeup Makeover
Cream, foundation, blush, highlighter, eyebrow pencil, eye shadow, eyeliner, mascara, lip liner, and lipstick.  She stood back and gave my new face a critical eye.
I sat motionless as a mannequin, waiting for her verdict.
She added some contouring bronzer, then a layer of translucent powder and viola!
Here's the result.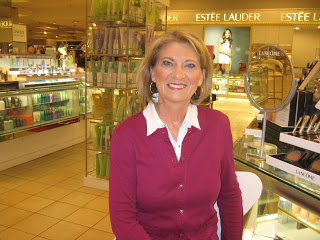 I went home with a bag of goodies ("Le Crayon," lip contour, "Hypnose Doll Lashes" mascara–to give me a wide-eyed look–"Creme Mousse Confort" foaming cleaner–for dry skin–etc, etc. You get the picture).  But this was only a test run.  I'll be returning in a few weeks for the real deal.
In the mean time, Linda told me to decide if I wanted a repeat performance or less or more.
On a day-to-day basis, I'd say less.  Much less.  I thought the combination of foundation, contouring-bronzer, and powder a bit heavy, my eyebrows too dark, my cheeks too pink, the whole look too "Red Carpet" for me.
But, for the purpose of my website (and book jacket???), well…
What do you think?  The same, less, or more?